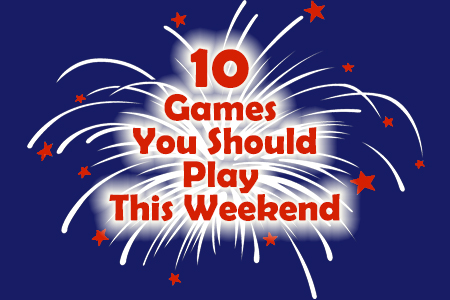 The July 4th Holiday weekend is upon us once again and what better time to introduce your friends and family to some new games?
Here is our list of 10 fun, portable, family-friendly games perfect for the picnic table:
1. Bohnanza (Rio Grande Games) – Plant your bean fields and harvest your crops to sell them at market for top dollar. The art is playful, the theme light-hearted, and it's easy to teach to non-gamers. Plus, it's fun to declare yourself the Stink Bean Mogul.
2. Sushi Go (Gamewright) –A pass and play card game with deliciously adorable art and fast-paced rounds, this game becomes addicting and will surely be a go-to game for future family gatherings.
3. Red Hot Silly Peppers (Rather Dashing Games) –In this silly game of salsa-making, more is better. Play card combos to make the hottest salsa, but watch out for other players using more ingredients and stealing your points!
4. Telestrations (USAopoly) – Pictorial telephone is the way of this game. Illustrate your clue and pass the book, taking turns drawing and guessing what the clue is. At the end of the round reveal the hilarious interpretations from the group.
5. Gravwell (Renegade Games) – Use the elements to escape the blackhole and boost your spaceship closer to the safe zone. Watch out for dead ships and other players using the forces of gravity to advance their own ship past yours. There's actual science behind this one, so go ahead and geek out a bit.
6. Bears! Trail Mix'd (Fireside Games – hey! that's us!) – Add this die to your existing copy of Bears! for crazy mixed up fun and new ways to stump your fellow campers and survive the bear attack. (Don't already have your own copy of Bears!? What are you waiting for??)
  7. Roll for It (Calliope Games) – Roll your dice and stake a claim to the cards that match your rolls. Go all in to score big, or go for the sure bet and watch your winnings stack up steadily.  Play as many rounds as you like with this portable, easy to learn, dice game.
8. Bang! The Dice Game (Da Vinci) – The Wild West is alive and well in this dice game of hidden identities and flying bullets. Roll the dice and play them against the bandits or the Sheriff, depending on whose side you're on. Careful, there's the quick and then there's the dead, so stay on your toes to survive this standoff.
9. Citadels (Fantasy Flight Games) – Fortune and city-building, with some good old-fashioned intrigue, this game requires a balance between long-term strategy and short-term opportunity. Choose your identity carefully each round to secure the wealth needed to build your city with an and come out on top.
10. Mag Blast (Fantasty Flight Games) – Who needs diplomacy when you have laser-blasters? Captain your own fleet of inter-galactic ships, using your cards strategically to take out your opponents before they reduce you to space junk.
What are your favorite games to break out at the family picnic? Share in the comments below!