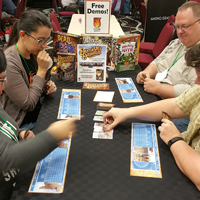 Break out your goggles, wrenches, and cravats! Game stores across the USA will be hosting free Dastardly Dirigibles demos August 13–14.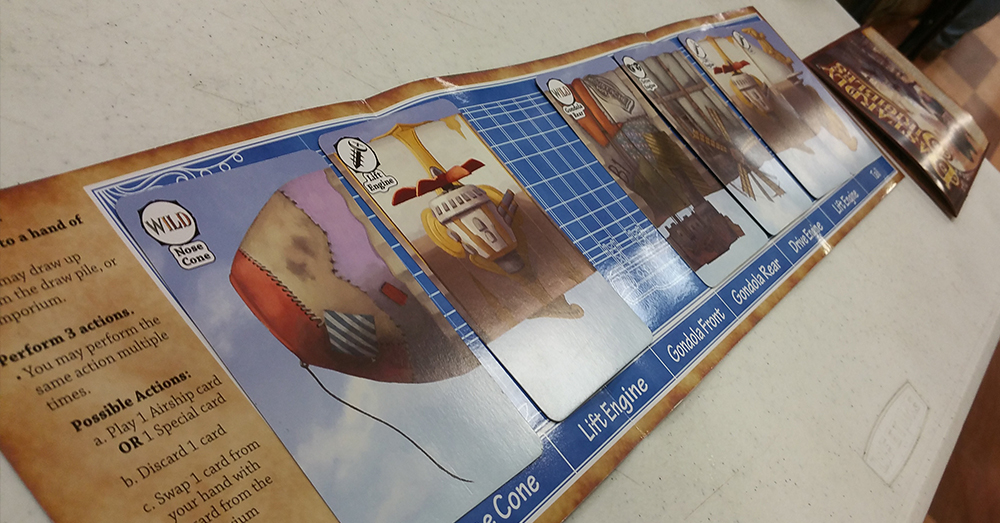 Find a participating store near you from the list below and compete to become the heir to Professor Hornswoggle's airship-building factory!
Arizona: Imperial Outpost Games (Glendale), 602-978-0467
Arkansas: Dragon's Keep Gaming Room (Fayetteville), 479-249-8888
California: Comic Quest (Lake Forest), 949-951-9668
California: 4 Color Fantasies (Rancho Cucamonga), 855-692-6642
Colorado: Crit Castle Games (Aurora), 303-745-4140
Connecticut: Regency Gaming (Mashantucket), 860-917-1111
Georgia: Heroes and Villains (Warner Robins), 478-322-0004
Georgia: Tyche's Games (Athens), 706-354-4500
Hawaii: The Armchair Adventurer (Honolulu), 808-843-1250
Hawaii: Other Realms Ltd. (Honolulu), 808-596-8236
Idaho: Gameopolis (Idaho Falls), 208-529-8026
Idaho: Safari Pearl Comics (Moscow), 208-882-9499
Illinois: Titan Games (Peoria), 309-981-5376
Iowa: Games King (Sioux City), 712-224-4238
Iowa: Games Plus One (Davenport), 563-391-1680
Indiana: Better World Books (Goshen), 574-534-1984
Indiana: Secret Door Games (Elkhart), 574-350-2295
Kansas: Boom Comic Shop (Lawrence), 785-856-2709
Maine: All About Games (Belfast), 207-338-9984
Maryland: Canton Games (Baltimore), 410-276-2640
Maryland: Play More Games! Store (Gaithersburg), 240-801-9375
Michigan: Acropolis Games (Adrian), 517-577-6192
Michigan: Nostalgia, Ink (Jackson), 517-784-8955
Michigan: TC War Room (Traverse City), 231-943-0248
Michigan: Warriors 3 Comics & Games (Wayne), 734-895-9069
Mississippi: Dark Knights Gaming (Long Beach), 228-236-7580
Missouri: The Bearded Dragon Collectibles and Hobbies (Independence), 816-427-1264
Missouri: Game Nite (St. Louis), 314-270-8440
Montana: Rooks Comics and Games (Bozeman), 406-556-2153
Nebraska: Hobbytown USA (Lincoln), 402-434-5040
Nebraska: Sparta Games (Omaha), 402-934-8330
New Mexico: Zia Comics and Games (Las Cruces), 575-405-0461
New Jersey: Arcana Toys Games and Hobbies (Washington), 908-223-1120
New Jersey: The Bearded Dragon Games (Bernardsville), 908-502-5112
New Jersey: Elite Battlegrounds (Green Brook), 732-424-0744
New York: Alterniverse (Hyde Park), 845-233-4234
New York: Legendary Realms Games (Plainview), 516-595-7088
North Carolina: Game Theory (Raleigh), 919-787-4449
North Carolina: Red Door Games (Richlands), 910-430-0132
Ohio: Recess (North Olmstead), 440-779-7008
Oregon: Guardian Games (Portland), 503-238-4000
Oregon: Off the Charts Games (Gresham), 503-912-1220
Pennsylvania: Comix Connection (York), 717-767-4871
Pennsylvania: The Game Table Café (Mechanicsburg), 717-695-0836
Rhode Island: Toy Vault Games (Warwick), 401-738-4325
Tennessee: The Game Cave (Hermitage), 615-678-5768
Tennessee: Hobbytown USA (Knoxville), 865-675-8647
Tennessee: Stabler Games & Comics (Oakridge), 865-685-0279
Virginia: The Island Games (Centreville), 515-599-0360
Washington, D.C.: Labyrinth Game Shop, 202-544-1059
Wisconsin: The GameBoard (Sheboygan), 920-453-4263
Wisconsin: Pegasus Games (Madison), 608-833-4263
Read all about the game here.