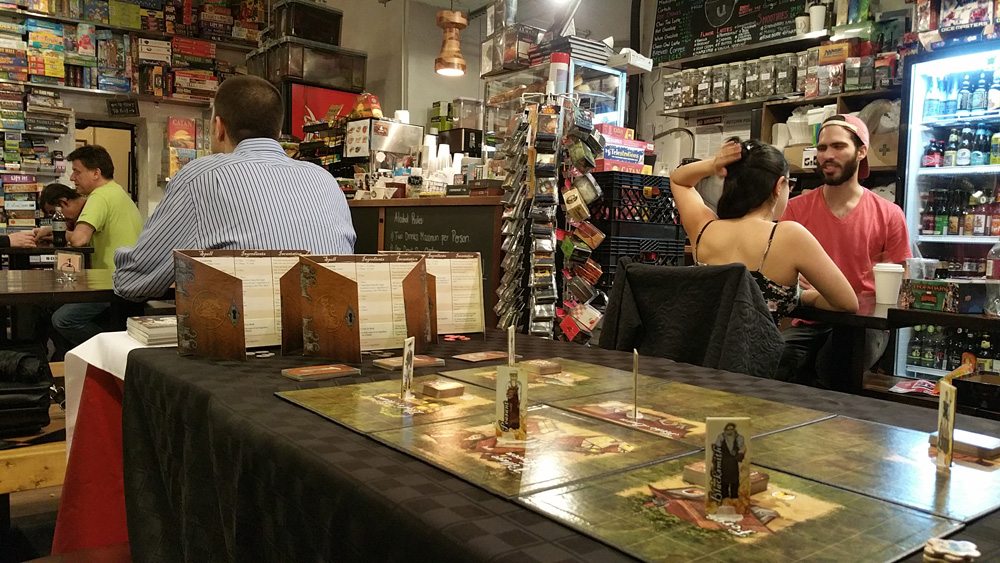 Last week saw a fair amount of city driving with several visits in and around New York City, and then a jog a up the Hudson Valley. In the past we've visited Lairs, Havens, and Taverns. The Village Crone has now taken us to us Cafes, a Lab, and a Den. Check them out!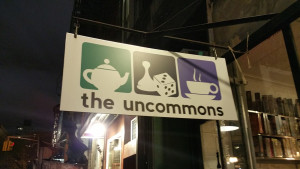 First up we had one more trip into Manhattan to The UnCommons NYC, a popular game café with a very extensive game library. There is a cover charge to get in, but you can play as many games as you want from their massive collection and stay as long as you like. Looking in their windows you can see a lot of fun games in their window displays.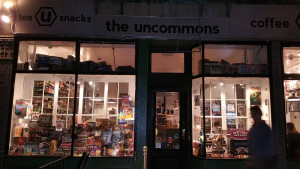 We unloaded our witchy goodness and got ready to cast some spells. Anne-Marie got the first group started and played with several groups of would-be witches throughout the evening. A lucky gamer got to go head-to-head with Anne-Marie in a 2-player game. It's pretty cool to learn from the designer!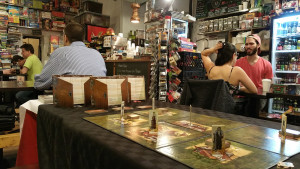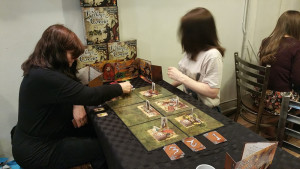 It was a late night, but a fun one. If you find yourself in Manhattan with a jonesing for a cuppa and a board game, this your place.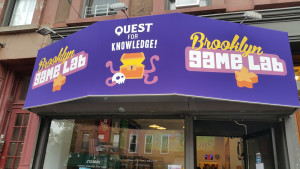 We also got to spent two pretty amazing afternoons at the Brooklyn Game Lab. It's an after school program where kids can not only play great games but study them, and even make their own games.
The whole thing is run by a great team and Bob and his crew really do an amazing job of keeping 40+ kids focused every day. Some days it's RPG's, other days it's board games and for Thursday and Friday the kids had a really special treat of getting to meet Justin and Anne-Marie while they learned Castle Panic and The Village Crone.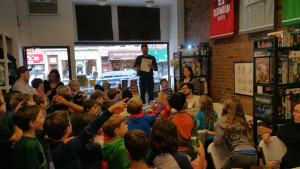 The older kids were started on The Village Crone while the younger players went into the outdoor garden area and learned how to play Castle Panic. A few kids even dared to go up against the bigger foes in The Wizard's Tower.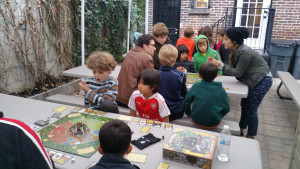 After we played for a while, the kids all got to make their notes on winning strategies for the game, expansion ideas and even new components. It's all an organized part of how the game lab staff gets the kids to really focus on the games they are playing and think about them.
After that we had a brief Q&A session where the kids got to ask Justin and Anne-Marie all about their inspirations, and what it takes to make a game go from an idea to a finished product. It's a really unique program and we were very excited to have been a part of it.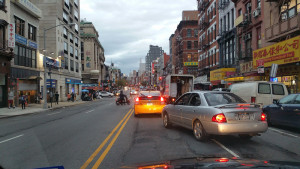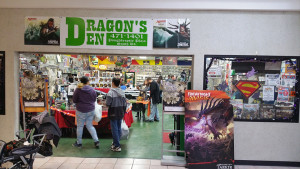 It was a cold and rainy afternoon as we made our way to The Dragon's Den in Poughkeepsie but we were warmly welcomed by David and Sean as soon as we walked in. They had gone out of their way to make our event special with fancy Halloween themed tablecloths, signs, and even tasty snacks.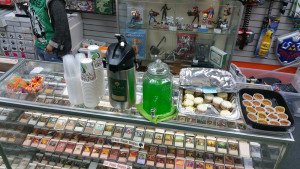 No sooner had we setup than the first group of players wanted to know all about our latest release. We had two games going almost nonstop for the entire event with many new fans being made this day. One player even declared The Village Crone to be "The best game ever!" after thoroughly crushing their opponents.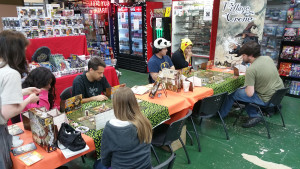 We spent a few minutes talking with the owner David about business and what it takes to run a store like this. The amount of fun stuff here is pretty amazing. Retro video games in the back, comics on the sides, board, card and minis games in between, and tons of table space. It's a great store and the gamers in the area are lucky to have such a cool place to hangout.
We played more games than we could count and even sold out all the inventory of The Village Crone the store had before we called it a night. Our thanks to the staff at the Dragon's Den for a great time!
What's Next?
This week we've got a quick stop in Connecticut at Gamer's Gambit and then we're heading North to Vermont, New Hampshire and Maine! To see our remaining schedule, check out our Something Wicked Tour blog!