Today marks the official 10-year anniversary for Castle Panic! Ten years ago today Castle Panic first hit store shelves and launched not only a new game on the market but a wild adventure for us. Of course, we'd been working on the game for years. I started tinkering with the idea for Castle Panic back in the early 2000's, but it was only a side interest then.
When we finally realized the potential for Castle Panic, we formed Fireside Games and released the game. I still remember getting that first box of sample games from the factory, I was so excited that I cracked it open and immediately texted a photo to Anne-Marie. I was like, "Holy cow, this is really happening!" And I was more than a little nervous.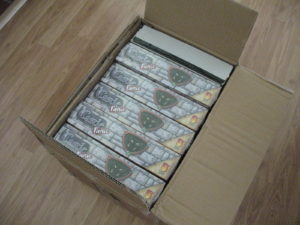 We knew we had something special with all the testing and feedback we'd received over the years of working on our tower defense game, but we weren't quite prepared for just how much players would be enthralled with defending a cardboard castle. Our first print run (which we thought would last us for at least 3 years) sold out in about 10 weeks and left us scrambling to catch up.
We celebrated the launch of the game at one of our favorite local game stores, Wonko's Toys & Games. Eric and Denise made us feel super welcome and became great friends as well.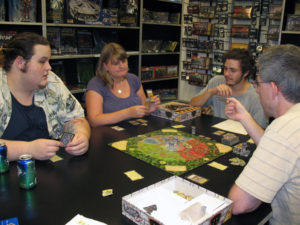 Once the game was actually available, the rest became a whirlwind of managing press, scheduling reprints and keeping up with all the great feedback we were getting. People loved the game from the start. One of the neat things that happened early on was when Scott Nicholson featured Castle Panic on his vlog "Board Games with Scott."
This was back when board game reviews were still kind of a new thing, and Scott giving us high praise like he did was amazing and really helped spread the word on our game.
Castle Panic was then featured on Season 1 of TableTop and has gone on to win multiple awards, all while continuing to make hundreds of thousands of people happy—if not a little panicked.
The next few years had us working hard on expansions. The first to be released was The Wizard's Tower, which let me introduce fun ideas like magic and fire to the base game. After that, I wanted to introduce a really big villain to the game and that turned into Agranok, the nemesis featured in The Dark Titan expansion. The third expansion was inspired by the idea of letting players build traps and weapons they could use anywhere on the board. That evolved into Engines of War with some terrible monsters to balance it all out, of course.
In addition to expanding on the world of Castle Panic, we took the game in whole new directions with our variations. Almost as soon as we released Castle Panic, we had fans requesting a zombie version of the game. It took a while to get all the elements to work the way I wanted them to, but Dead Panic ended up being a really fun, cinematic twist on our original game.
A few years later, we partnered with our friends at Steve Jackson Games and got to work on Munchkin Panic. This time, Anne-Marie worked on mixing the "all-for-one" spirit of Castle Panic with the "all-for-me" attitude of Munchkin, and the result was a hilarious take on a cooperative game that includes plenty of backstabbing.
It wasn't long after that when we started talking with USAopoly about a licensing opportunity that turned out to be part of celebrating the 50th Anniversary of the original Star Trek. As a big fan of all things Trek, it was a real treat to be able to blend that amazing world with the tense gameplay of Castle Panic. I'm very proud of how Star Trek Panic turned out, especially when I hear from fans that we did the license right.
As part of celebrating the 10-year mark, we've come up with some fun new additions to the world of Castle Panic as well. First, we released My First Castle Panic, a preschool version of the game that doesn't require any reading but still provides that "all-for-one" sense of excitement.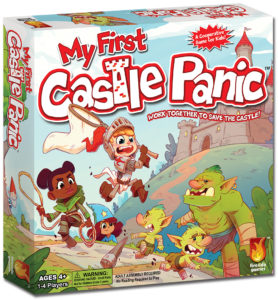 Next up, we put the base game and all the expansions together in one box along with a sweet insert and all the promo items we've ever made. The Castle Panic Big Box was released in July and has already made a lot of gamers happy.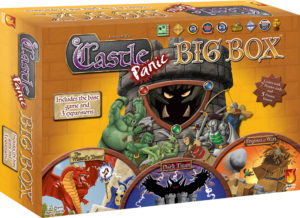 And for fans who already have all the games but want a cool place to put them, we are running a pre-order for the Castle Panic Big Box BOX. It's the same box from the Big Box, but it only includes the insert, promo items, and updated rulebook, so you can fill it with all the castle goodness you already have.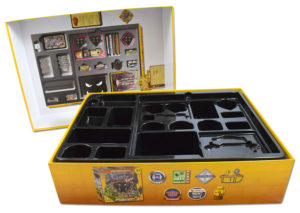 That pre-order will end on September 30th, so if you're interested, there's still time to get your own box!
Another long-awaited item that's new for this anniversary year is the Castle Panic Playmat. This neoprene mat is sturdy and easy to store, with a non-slip bottom to make sure it stays in place. It's the same size as the actual game board and features the same art, so it's a great way to enhance your game or replace a worn board.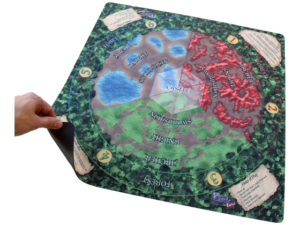 The last item for this year is the 2019 International TableTop Day Promo Tower. We've been making a special tower every year for the last 5 years now and each one brings a special ability to your game. This year's tower lets you move all monsters in the same arc as the tower back to the forest when that tower is destroyed. Good stuff!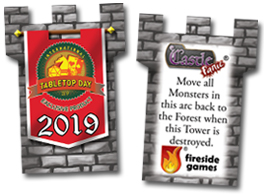 The best news is that we are nowhere near finished building the world of Castle Panic! We've got new games coming out next year to bring even more panic to your table, and we'll be sharing more info on those as soon as we nail down the details.
We couldn't have done it without you, our fans, and we thank you from the bottom of our hearts for making this game the success that it is. Thank you, and good luck defending the castle!
-Justin De Witt