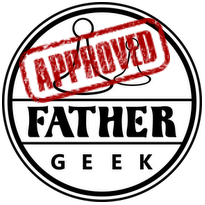 Our Steampunk card game Dastardly Dirigibles has already received some really great reviews, including one from the crew over at FatherGeek.com. They took a look at our game recently and gave it their official seal of approval.

If you're not familiar with Father Geek, Cyrus and his gang put a unique spin on the typical board game review. After a detailed overview of the game, the final review is actually 3 perspectives from different groups.
The Child Geeks give their thoughts as a group of younger players. The Parent Geeks give their feedback as adult players who may or may not consider themselves gamers but definitely view the game as a parent. Lastly, the Gamer Geeks take a more hobby-oriented view of the game since these are veteran players with a lot of experience.
In order to get the Father Geek Approved badge, a game has to be approved by all 3 Geek groups and we are very proud to say that Dastardly Dirigibles did just that!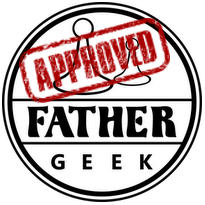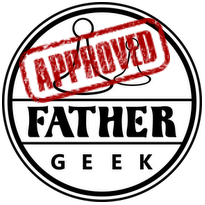 Each group had some great comments on our splendid construction creation.
The Child Geeks noted. "Each time you play a part, everyone else gets to play a part, too. This means that playing parts on your turn is not always a good thing."
The Parent Geeks commented, "I like how the game subtly opens up to you. I thought it was just a race, but now I see it has more to do with pacing and positioning than anything else."
The Gamer Geeks were intrigued as well saying, "This is a solid game. Light but it has depth. You need to be strategic about your card playing timing and always have a backup plan."
Our favorite comment comes from Cyrus, Father Geek himself, in his description of the gameplay.
"The game forces players to play cards, but it does it in such a way as to make it feel like it's doing you a favor.
'What's this? Your opponent just played an engine? Guess what? You can, too! Yeah, we're all winners!'
The game just sold you a beautiful lie, and you'll buy it each and every time, too, with a smile. When you are forced to play a card, you are also forced to change your Guide sheet in a way you may not particularly want."
You can check out the entire review for yourself, and if you're intrigued, feel free to grab a copy!