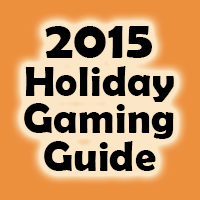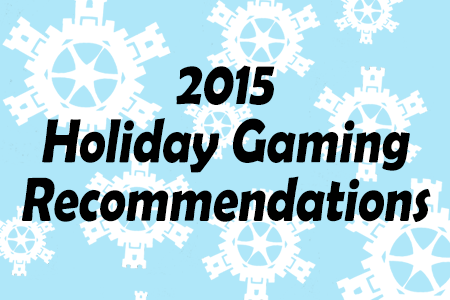 The weather outside can be as frightful as it wants to be when you have hours of entertainment at your fingertips (and no, we aren't talking about your smartphone).
'Tis the season for gathering with family and friends and being thankful for the time you have with them. What better way to engage with those you love than over a board game?
Here is a brand new list of gaming recommendations for you to share with your nearest and dearest this Thanksgiving and on through the holiday season.
2015 Holiday Gaming Recommendations

1. The Resistance – Indie Boards & Cards
Great for larger groups, this game of deduction and sabotage can accommodate 5-10 players. Work together to complete missions while trying to discover the spies hiding in your midst. This one was an alternate for last year's list and is always brought up when we talk to other gamers, so you know it has to be good!
2. Chopstick Dexterity Mega Challenge 3000 – MayDay Games
Play it like a Japanese Game Show for the maximum fun. Flip a token, find out what shape and color you are vying for, and try to move all the matching pieces from the main bowl into yours using only your mad chopstick skills. Get a family member to commentate and let the chopsticks fly!

3. The Village Crone – Fireside Games
Slinging spells around the dinner table seems like a fun way to spend the holidays. This one is ideal for the families who love telling stories. It can be played with up to 6 players, so no one gets left out. Command your Familiars, collect your Ingredients, and compete to be the town witch. You might just find yourself making up little spells for all the dishes you cook up.

4. Graveyards, Ghosts, & Haunted Houses – Rather Dashing Games
Create the board as you lay your tiles trying to connect the longest run of your color and thwarting the other players's paths. Watch out for the special tiles that let players rearrange the layout or the tokens that can block your path. This one is a mind puzzle, so you might want to lay off the eggnog while playing.

5. Hanabi – R&R Games
Put your communication skills to the test in this cooperative game. Work with the other players to put on the best fireworks display by playing your cards in proper order. The catch? You can't see your own cards. You must take clues from other players to lay the right card or watch your chances of winning go up in smoke!

6. Lanterns: The Harvest Festival – Renegade Games
Compete to be the most honored artisan at the Lantern Festival by laying tiles to create the best display. Lay your tiles strategically to earn bonuses or block other players. This one plays in 30 minutes, so it's perfect while you wait for the turkey to settle before digging into some pie.

7. Space Cadets: Dice Duel – Stronghold Games
Picking sides at the holidays is always tricky, but add in the threat of annihilation and it gets downright frantic! In Space Cadets, you must protect your spaceship from the other team by performing your crew member tasks and launching counter attacks. There are no civilized turns in this game, just instinctive action to survive. Get in the spirit with your best Star Wars jokes.

8. Codenames – Czech Games
Work in teams to decipher the clues and claim the right words on the grid for your team. Choose wisely or you may uncover the other team's words for them. This one's really popular this year so if you don't already have a copy, you might have to wait and break this one out at Christmas after the next print run arrives in early December (we asked).

9. Splendor – Asmodee
Strategy is the key in this game of Renaissance reputation. Collect chips and cards to expand your gem mines and shops all to increase your prestige and become the most prominent purveyor of jewels. This one has won many awards and is fairly easy to pick up for those non-gamers in your crowd.

10. Double Feature – Renegade Games
This one's for the cinephiles and pop culture junkies. Earn points by naming a movie that marries the themes from two different cards. One round you might have to name a movie that involves "Gorillas" and "New York" and the next you might have to name a "Black and White" "Cowboy" movie. You'll have fun and you might even discover some new Must Watch movies.
There are so many great games out there, we're sure we've missed a few you would have added to the list. Tell us your favorite games to share with friends and family in the comments below!
Want more recommendations? Check out our 2014 Thanksgiving Gaming List and our Independence Day List.
Find a Friendly Local Game Store near you to pick up a few of these titles!