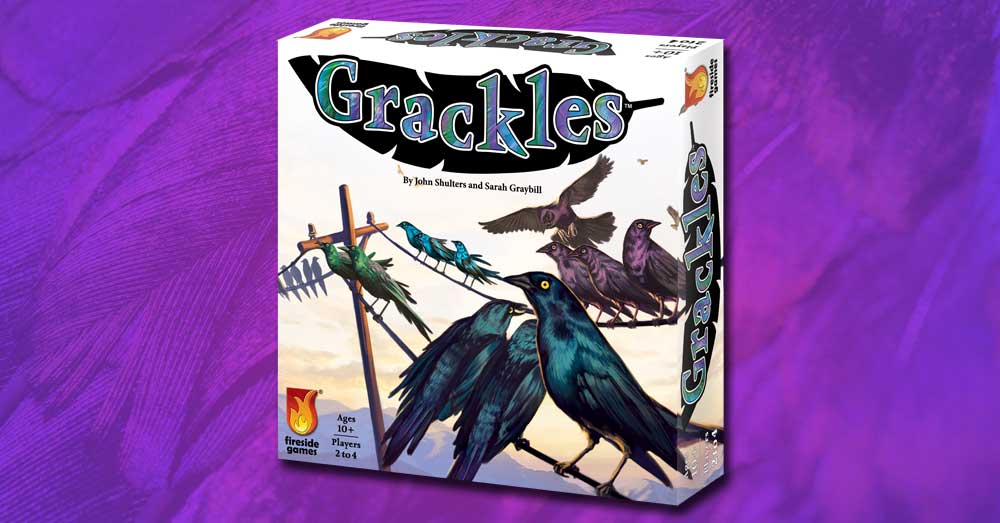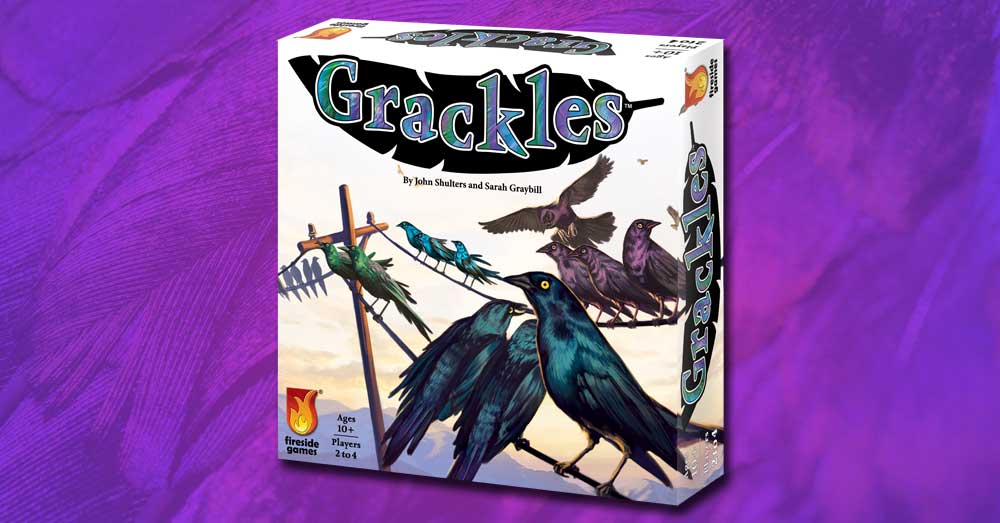 Love pretty abstract games? You'll want to play Grackles. On your turn, you take one of four actions and plot to have the most birds on telephone lines. Game stores across North America will be hosting free Grackles demos September 22–23.
Find a participating store near you from the list below and compete to line up your birds!
UPDATED 9/19
John and Sarah, the designers of Grackles will be running some very special demo events this weekend in their home state of California! If you're in the area, come by for a unique chance to play the game and meet the very nice folks that designed it! (Click here for details)
Arizona
Imperial Outpost Games (Glendale), 602-978-0467
Arkansas
Dragon's Keep Gaming Room (Fayetteville), 479-249-8888


California – NEW!
The Game Getaway (Folsom), 916-234-7541 Saturday 12pm – 3pm
Great Escape Games (Sacremento), 916-927-0810 Sunday 3pm – 6pm
Colorado
Crit Castle Games (Aurora), 303-745-4140
Petrie's Family Games (Colorado Springs), 719-522-1099
Connecticut
The Board Room (Middletown), 860-788-7824
Connecticut Gaming Center (Waterbury), 203-527-3918
Georgia
Tyche's (Athens), 706-354-4500
Dice Drop Games (Macon), 478-737-1192
Hawaii
The Armchair Adventurer (Honolulu), 808-843-1250
Other Realms Ltd. (Honolulu), 808-596-8236
Idaho
Gameopolis (Idaho Falls), 208-529-8026
Safari Pearl Comics (Moscow), 208-882-9499
Gaming Adventures (New Plymouth), 208-649-4244
Illinois
AlleyCat Comics (Chicago), 773-907-3404
Bonus Round Games Cafe (Chicago), 773-857-1037
Indiana
Power Nine Gaming (Fort Wayne), 260-387-6136
Better World Books (Goshen), 574-534-1984
Good Games (Indianapolis), 317-493-1423
Saltire Games (Indianapolis), 317-823-1645
Kansas
Mission: Board Games (Mission), 913-242-7970
Sente (Wichita), 316-640-5344
Louisiana
Anubis Game & Hobby (Broussard), 337-330-6096
Maryland
Play More Games! Store (Gaithersburg), 240-801-9375
Dream Wizards (Rockville), 301-881-3530
Dice City Games (Silver Spring), 443-424-2637
Michigan
Acropolis Games (Adrian), 517-577-6192
Destiny Games (Canton), 734-404-5548
Nostalgia, Ink (Jackson), 517-784-8955
Minnesota
The Gaming Goat (Saint Paul), 651-690-4628
Mississippi
maCnarB Gaming (Gautier), 228-497-0303
Missouri
Pawn and Pint (Kansas City), 415-613-0476
Nebraska
Gauntlet Games (Lincoln), 402-420-5060
The Game Shoppe (Omaha), 402-991-8699
Sparta Games (Omaha), 402-934-8330
Nevada
The Glass Die (Reno), 775-384-1456
New Mexico
Zia Comics and Games (Las Cruces), 575-405-0461
New York
The Brooklyn Strategist (Brooklyn), 718-576-3035
Just Games Rochester (Rochester), 585-586-0586
North Carolina
Rocket City Games and More (Jacksonville), 910-577-5556
Event Horizon Games (Raleigh), 919-977-4009
Gamers Guild (Spring Lake), 910-497-2354
Ohio
The Guardtower (Columbus), 614-488-4311
Tabletop Game Cafe (Columbus), 614-725-0328
Bell, Book & Comic (Dayton), 937-643-9006
Beyond the Board (Dublin), 614-553-7677
Barnes & Noble (Pickerington), 614-751-0927
Oregon
Borderlands Games (Salem), 503-485-2554
Pennsylvania
Deal Me in Games (Boyertown), 484-415-0058
The Games Keep (West Chester), 484-905-5533
Caffeinated Gaming (Zieglerville), 610-287-1624
Rhode Island
Reality A Games (West Warwick), 401-500-1545
Tennessee
901 Comics (Memphis), 901-421-8819
Texas
Mage's Sanctum (Austin), 512-428-4402
Brickhouse Games (Garland), 972-926-3398
Dragon's Lair (Houston), 832-761-0072
Flash Candy and Toys (Lockhart), 512-668-5075
Mad Hatter's House of Games (Lubbock), 806-763-4054
Stormcrow Games (Lubbock), 806-778-4281
Darkhound Game Center (Mansfield), 817-225-6145
Sockmonkey Junction (Mansfield), 682-999-8697
Madness Games & Comics (Plano), 972-943-8135
Utah
Blackfyre Games (Pleasant Grove), 801-785-9713
Game Haven (St. George), 435-627-0616
Demolition Games (Salt Lake City), 385-229-4739
Virginia
The Island Games (Centreville), 515-599-0360
Crossroads Tabletop Tavern (Manassas), 571-364-8885
Wisconsin
Lake Geneva Games (Lake Geneva), 262-885-1515
TK Games (Menomonee Falls), 262-257-0800
I'm Board! Games and Family Fun (Middleton), 608-831-6631
The GameBoard (Sheboygan), 920-453-4263
West Virginia
Four Horsemen Comics (Bridgeport), 304-848-9210
Wyoming
Games Gauntlet (Laramie), 307-299-7976
INTERNATIONAL
Canada
North of Exile Games (Penetanguishene, Ontario), 705-614-2801
Mexico
Mana Screw (Costa Azul), 52-1-646-176-4406
Read all about the game here.