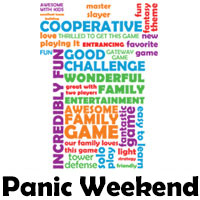 (UPDATED 6/23)
For a variety of reasons, we had decided not to celebrate International Panic Day this year, but after a groundswell of requests, we thought a small-scale event would be nice. One thing led to another, and now we are thrilled to report that between June 29 and July 2, we will have 137 stores spanning 44 states and 3 countries opening their doors and teaching people how to play Castle Panic and Munchkin Panic.
For the event, we've created a new Castle Panic promo, called Fickle Fortune.  And for Munchkin Panic, we have the original Bookmark of Free Masonry.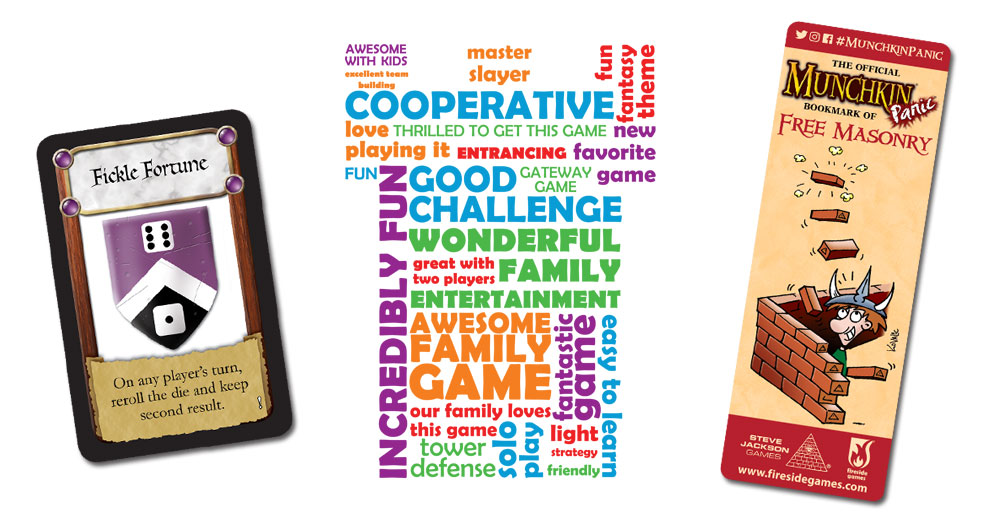 To see if there is a participating store near you, check out the list below. Have a great time playing Castle Panic and Munchkin Panic. Enjoy the day and the promos!
Alabama
Quality Collectibles (Jasper)
Gamers N Geeks (Mobile)
Game Time Hobbies (Opelika)
Alaska
Gateway Games (Ketchikan)
Arkansas
Dragon's Keep Gaming Room (Fayetteville)
Mena Game Lounge (Mena)
Imagine! Hobbies & Games (Sherwood)
Arizona
Imperial Outpost Games (Glendale)
WesterCon 70 (Tempe)
California
Paladin's Game Castle (Bakersfield)
Games of Berkeley (Berkeley)
Crazy Squirrel Gaming Store (Fresno)
The Dice House (Fullerton)
Comic Quest (Lake Forest)
At Ease Games (San Diego)
Empire Collectables (San Diego)
Crazy Fred's (San Diego)
Pair A Dice Games (Vista)
Colorado
Shep's Games (Aurora)
Connecticut
Your Friendly Neighborhood Tabletop Shop (Newington)
Florida
Gods & Monsters (Orlando)
Kitchen Table Games (St. Petersburg)
Georgia
Tyche's Games (Athens)
Quest Comic Shop (Carrollton)
Hawaii
Other Realms Ltd (Honolulu)
The Armchair Adventurer (Honolulu)
Idaho
Safari Pearl Comics (Moscow)
Infinite Heroes Games (Nampa)
Illinois
Castle Perilous Games & Books (Carbondale)
Da Sorce (Chicago)
Fair Game (Downers Grove)
Indiana
Reader Copies (Anderson)
Better World Books (Goshen)
Castle Comics and Cards (Lafayette)
Iowa
The Hobby Corner (Iowa City)
Kansas
Boom Comic Shop (Lawrence)
Collector's Cache by Feral Events (Olathe)
Kentucky
Hobby Town (Bowling Green)
Comics 2 Games (Florence)
Lousiana
Plus 1 Gaming (Metairie)
Mechacon 2017 (New Orleans)
Maryland
Xpanding Universe (Aberdeen)
Canton Games (Baltimore)
Play More Games (Gaithersburg)
Dream Wizards (Rockville)
Massachusetts
Round Table Games (Carver)
Greenfield Games (Greenfield)
Michigan
Acropolis Games (Adrian)
Dreams of Conquest (Bay City)
TC Paintball (Traverse City)
TC War Room (Traverse City)
Imperium Games (Wixom)
Mississippi
maCnarB Gaming (Gautier)
Tupelo Sportscards and Games (Tupelo)
Missouri
Capital City's Game Emporium (Jefferson City)
CCYDNE Hobbies (Lebanon)
Minnesota
Lionheart Games (Waite Park)
Montana
Orion's Keep Games (Hamilton)
Nebraska
The Game Shoppe (Bellevue)
Game On – Grand Island (Grand Island)
Game On – Kearney (Kearney)
Hobbytown USA (Lincoln)
Gauntlet Games (Lincoln)
Game On – McCook (McCook)
Game On – North Platte (North Platte)
The Game Shoppe (Omaha)
Nevada
Little Shop of Magic (Las Vegas)
Games Galore (Reno)
New Hampshire
Double Midnight Comics (Concord)
The Relentless Dragon (Nashua)
New Jersey
The Bearded Dragon Games (Bernardsville)
Arcana Toys, Games, and Hobbies (Washington)
New Mexico
Zia Comics and Games (Las Cruces)
New York
Alterniverse (Hyde Park)
The Game Gamut (Pittsford)
The Arena (West Babylon)
Freakopolis Geekery Inc. (Whitehall)
North Carolina
Hillside Games (Asheville)
The Spot (Newton)
Red Door Games (Richlands)
The Comic Monstore (Salisbury)
DreamDaze Comics, Fun, & Games, Inc. (Wilson)
3 Blind Dice (Winston-Salem)
North Dakota
Force of Habit Hobby Shop (Minot)
Ohio
Sci-Fi City (Cincinnati)
The Rook OTR (Cincinnati)
Flying Monkey Comics and Games (Delaware)
Beyond the Board (Dublin)
Fun Factory (Mt. Gilead)
Barnes & Noble (Pickerington)
Checkmate (Toledo)
Oregon
Funagain Games (Eugene)
Guardian Games (Portland)
Pennsylvania
Mister J's Asylum (Muncy)
Six Feet Under Games (New Holland)
AnthroCon (Pittsburg)
The Games Keep (West Chester)
South Carolina
Firefly Toys & Games (Columbia)
Boardwalk Games (Greenville)
Tennessee
Pair A Dice Games (Athena)
The Game Cave (Hermitage)
Texas
Wonko's Toys and Games (Austin)
Clockwork Games & Events (College Station)
Cards and Comics Connection (Conroe)
Dragon's Lair (Houston)
Ettin Games (Houston)
Flash Candy and Toys (Lockhart)
Three Suns Unlimited (Longview)
Sockmonkey Junction (Mansfield)
Fleur Fine Books (Port Neches)
The Gaming Goat (Spring)
Gerard's Gaming and LAN Center (Webster)
Utah
Gunjah The Bead Forest (Cedar City)
Game Grid (Layton)
Blackfyre Games (Pleasant Grove)
High Gear Games & Hobbies (Salt Lake City)
Gameland World (Spanish Fork)
Virginia
The Island Games (Centreville)
Washington
Mox Boarding House (Bellevue)
Uncle's Games, Puzzles, & More—CrossRoads Mall (Bellevue)
Diversified Games (Chehalis)
Fantasium Comics & Games (Federal Way)
Uncle's Games, Puzzles, & More—Redmond Town Center (Redmond)
Shane's Big League (Renton)
The Comic Book Shop (Spokane)
Uncle's Games, Puzzles, & More—Downtown Spokane (Spokane)
Uncle's Games, Puzzles, & More—Spokane Valley Mall (Spokane Valley)
Uncle's Games, Puzzles, & More—Tacoma Mall (Tacoma)
Wisconsin
Lake Geneva Games (Lake Geneva)
Let's Play (at the Gnome Games booth) (Appleton)
Pegasus Games (Madison)
West Virginia
Nerd Rage – Morgantown (Morgantown)
J and M's Used Bookstore (Parkersburg)
Wyoming
Games of Chance (Riverton)
Games of Chance – Flying Eagle Location (Riverton)
Canada
Dragon's Den Games (Saskatoon, Saskatchewan)
New Zealand
King of Cards (Auckland)