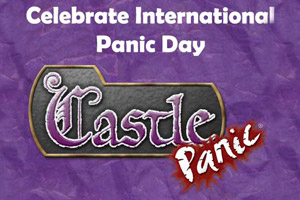 We're thrilled to be celebrating our 3rd annual International Panic Day! What started out as a funny way of observing a silly holiday has turned into a great way of sharing the love of Castle Panic.
This year, we are celebrating on June 2 with new Castle Panic Event Kits. Each kit supports 16 players and offers 3 different game formats: casual play, team play, and scenario play.
Casual play is noncompetitive and offers new players the opportunity to learn this evergreen, cooperative game.
Team play provides a group competitive experience in which teams add up slain monsters to win prizes.
Scenario play offers a unique, exclusive way to play Castle Panic. In this format, 2 teams play head-to-head in Nightmare Mode, throwing their slain monsters into the forest of the competing team. The goal is to have the last tower standing. And it is a fast blast!
Each participant receives a new promo card. Team and scenario play winners receive exclusive suede Monster bags (as does the Event Coordinator). Runners up go home with Monster-eye game totes. And the person who most contributes to the spirit of the event is awarded the Defender of the Realm pin.
Kits include the rewards listed above as well as event instructions, an event sign-up sheet, and 2 demo copies of Castle Panic. An Add-On Kit is also available without the demo copies. Retailers may contact distributors for pricing and to place orders.
For retailers and distributors, we also have the following marketing assets here.
images of the kit contents
web banners
shelf-talker (to place below Castle Panic)
Facebook ads (with and without text)
1920×1080 in-store TV ads
Hope to see you at your local game store this June 2 to celebrate!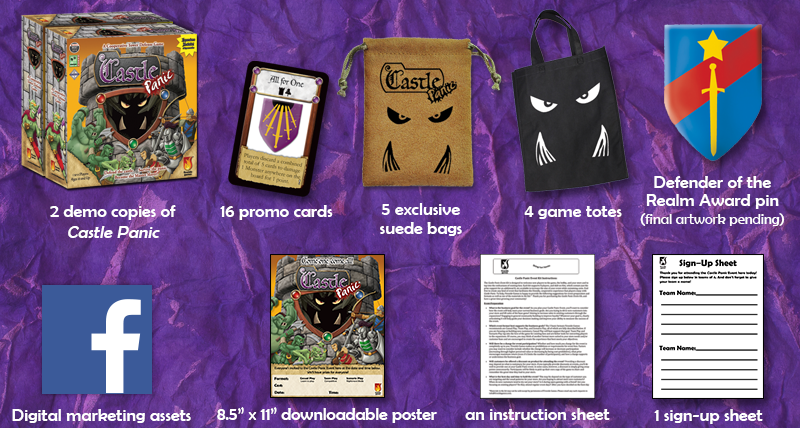 Castle Panic Event Kit
Stock number: FSD 1001EK1
Castle Panic Event Kit Add-On
Stock number: FSD 1001EK2