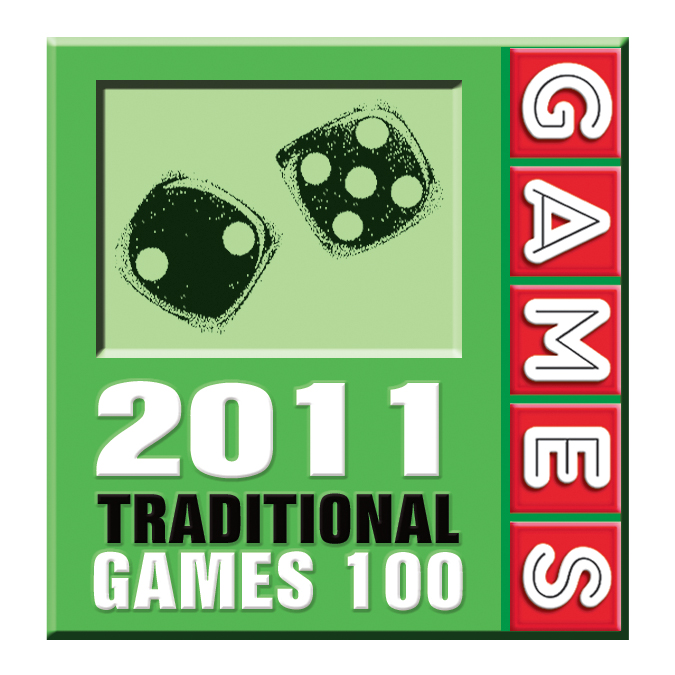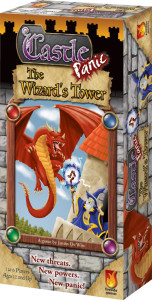 One of the biggest changes to Castle Panic when you add The Wizard's Tower expansion is the addition of the Wizard deck of cards that infuse the game with magic and new abilities for the players.
How Do You Get Wizard Cards?
Players can obtain Wizard cards during Phase 2 of their turn: Discard and Draw 1 Card. You can only get one Wizard card per turn this way. You cannot draw up to your full hand in Phase 1 from the Wizard deck. You may also obtain a Wizard card during your Trade cards phase if another player is willing to trade you one from their hand.
The Wizard deck is only available to players while the Wizard's Tower is still standing on the board. If the Wizard's Tower is knocked down by the Monsters, you lose access to that deck of cards and all the magic within.
What is in the Wizard Deck?
The Wizard cards include new ways to attack Monsters, including cards that you can play against Monsters that are still in the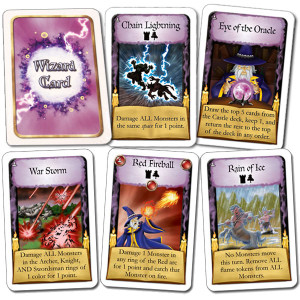 Forest. Remember, in the base game, you cannot attack Monsters until they enter the Archer ring. The cards with Forest play options have a tree symbol on them to help remind you. There are also some new cards with the Castle symbol you will recognize from the base game as indicating you can use them against Monsters that have entered the Castle ring.
Some Wizard cards require you to play them with another card such as a Hit card or to "pay" to use the card with an additional card. An example of this is Mystical Manufacturing, which requires you to play a brick or mortar card with the Wizard card to be able to rebuild a Tower.
Oh, yes, you can rebuild a Tower! You need the Mystical Manufacturing card to be able to do so, but this gives you an additional chance at survival by allowing you to recover from a lost Tower.
Watch this video for a quick overview of the Wizard deck and what you get when you add The Wizard's Tower expansion!
Of course, the expansion doesn't just make the game easier, we've added lots of new Monsters with new abilities and movement effects. Stay tuned for further videos that explain the mayhem that comes with the expansion. You can see a full list of the Wizard cards, as well as the Monsters and new Castle cards, in The Wizard's Tower Rulebook.
Need replacement pieces? We've got you covered if a Troll has gone missing or your cards are showing wear. Check out our webshop where you can get new pieces and the special Castle Panic Promo Pack of past promotional game pieces with in-game effects, as well as some extra fun swag!