San Angelo is small town in West Texas that was founded in the 1800's when the U.S. constructed Fort Concho in an attempt to defend frontier settlers from hostile attackers. It seems very fitting then that San Angelo would be the final stop of The Dark Titan Cometh tour. After all, here is where many brave defenders would make their stand against one very hostile, 8-point attacker and his army of monsters!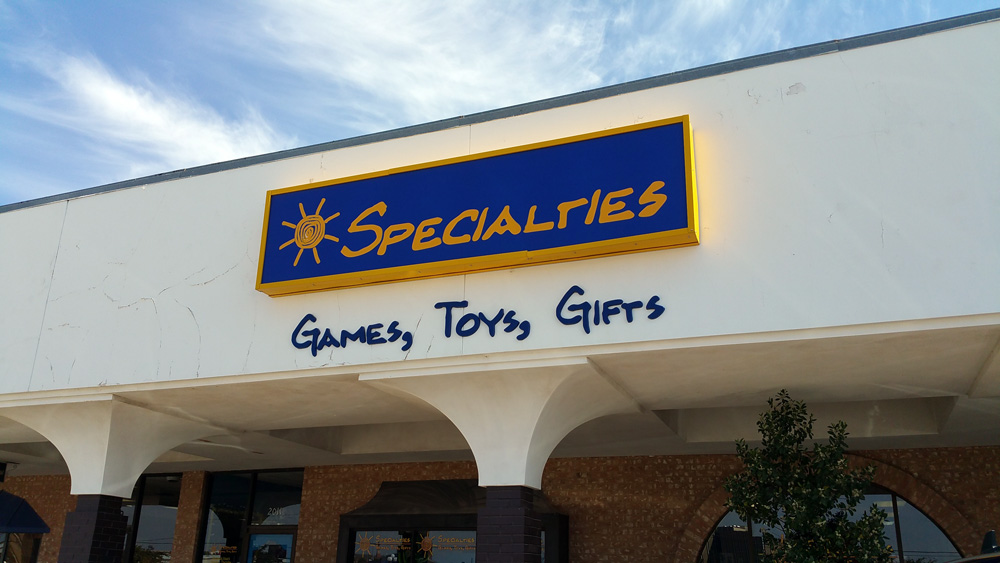 San Angelo also happens to be the home of Specialties Games, Toys, & Gifts, one of our favorite stores that we first visited back in 2013 during our West by Southwest tour. We arrived on Monday afternoon and were quickly greeted by owners George and Linda Bell and a crowd of enthusiastic players. After visiting for a short time, we set up a game of Castle Panic, The Wizard's Tower, and The Dark Titan and the great battle began!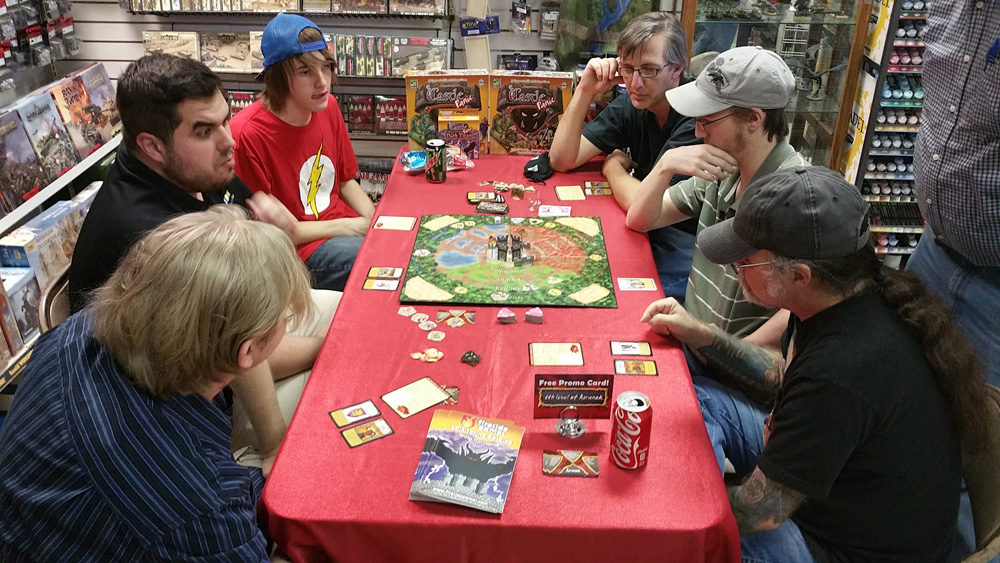 The first game got off to a terrifying start after losing the Wizard's Tower to a boulder early in the game. Our players fought on through a roller coaster of last-minute saves and heroic comebacks, but in the end the ominous foreshadowing from earlier in the game came true as a Trebuchet knocked down the last tower right after our heroes had cleared monsters from the Castle ring. There was much sadness.
But not for long!
Our second group of players (and 1 returning player from the first game) took their places around the table and the battle with Agranok was begun again.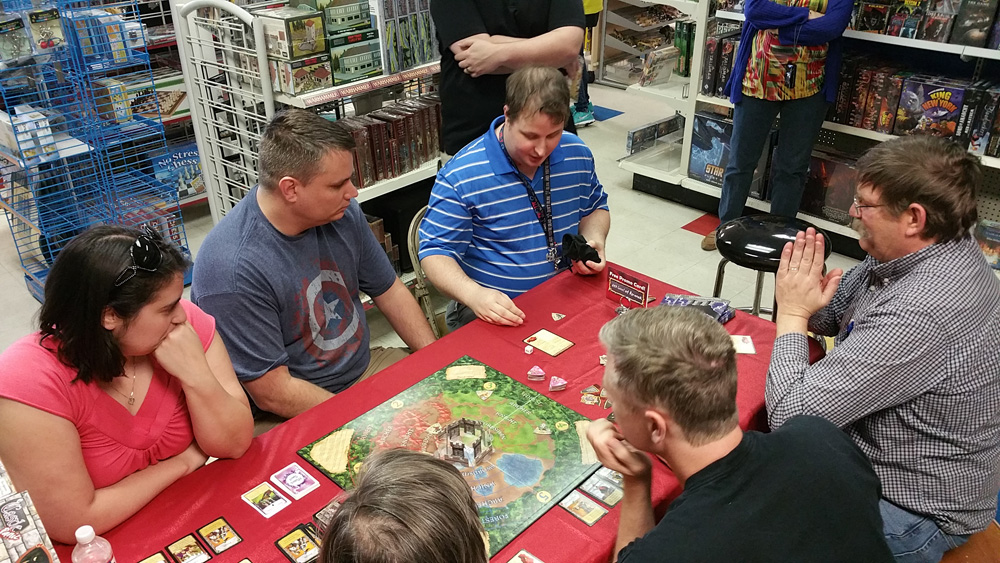 This time our players kept their wits and their walls up, and things went much better. At least for a while . . . Then the Wizard's Tower was destroyed and the game took a turn for the worse. Agranok was destroyed shortly after entering the battle, but he brought back 3 of his Heralds before succumbing to our defenders blows. The sudden appearance of the Orc Warlord pushed 2 Heralds into the Castle ring, and despite the players best efforts, the final tower fell under attack from a Herald, and the land was cast into darkness.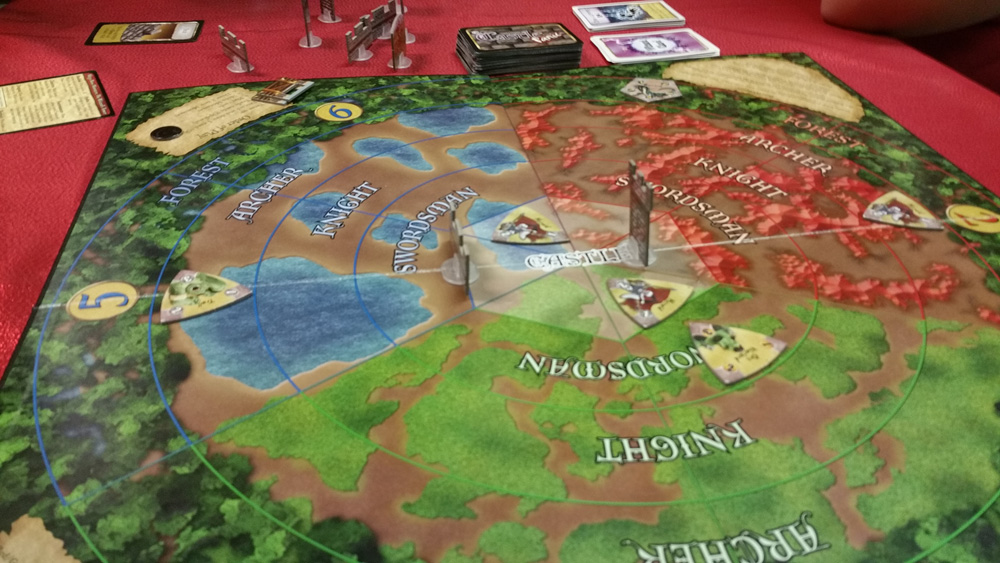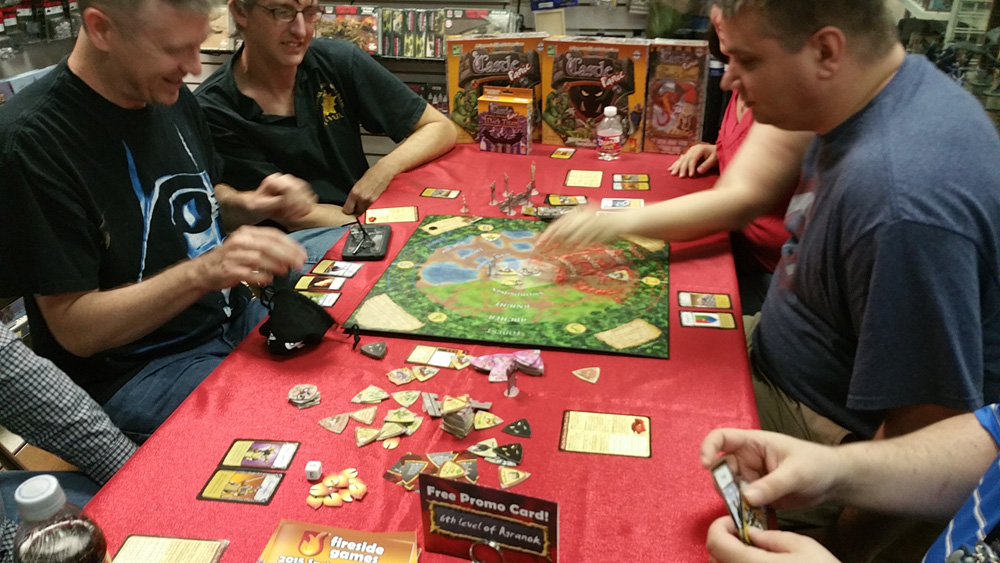 During all this medieval combat, we visited with our friend Rick Perez from Let's Level Up as well as several other fans who we hadn't seen since our 2013 visit. There were lots of games signed and cookies eaten as well. (Thanks to Linda for providing snacks!) It was a great afternoon and a fantastic way to finish off The Dark Titan Cometh Tour! We said our goodbyes, packed up the minivan, and headed out for a quick bite to eat before hitting the road for Austin and some well-earned rest.
With the tour ending, that means it's your turn to finally face down Agranok! The Dark Titan will be officially available for sale on April 1st, and if you order it from our web store, you'll receive the special promotional Level 6 version of Agranok that we've been handing out during the tour. This is an exclusive card that you won't find anywhere else, so gather your friends and see if you can make your stand against the Dark Titan!