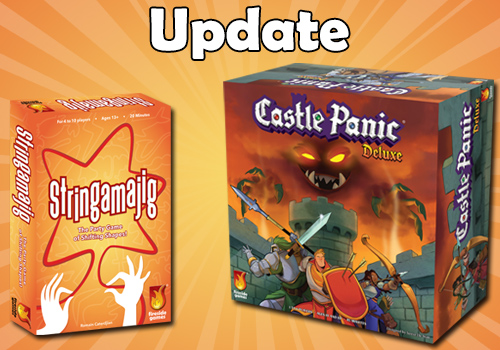 With all the disruption that the COVID-19 virus is causing for families, retailers, and the board game industry, there is a lot of uncertainty about the near future. Because of that, we've decided to delay our upcoming releases. First, we'll be holding off on shipping our party game Stringamajig. Because of all the stay-at-home orders issued by states, counties, and cities, it would be very hard to ensure the game is widely available. We don't want to frustrate customers or retailers, so we'll be holding that game back until we know more. The good news is that the game is on its way to our warehouse now, so we can start shipping it out as soon as it makes sense. We'll be reaching out to retailers and distributors for guidance on the best time to release Stringamajig.
Additionally, we're postponing the launch of the Kickstarter campaign for Castle Panic Deluxe. The original plan was to launch on March 31st, but that game is at a high price point. We don't want anyone to feel pressured to have to make difficult financial choices when it comes to entertainment in this environment, so we'll hold off for now. We'll announce a new launch date once we see things turning around. In the meantime, we'll keep working on spreading the word about how exciting this game will be once it goes live!
If you want to stay up to date, make sure to follow us on social media (Facebook,  Twitter, Instagram) so we can give you the latest news.
Stay safe everybody! We'll get through this and play some great games together soon!