Star Trek™ Panic®, a new out-of-this-world board game that merges the classic tower defense style play of the Panic® series with the most iconic elements of the original Star Trek™ universe. Under license by CBS Consumer Products, Star Trek™ Panic® boldly goes where no one has gone before as players join the crew of the U.S.S. Enterprise on a voyage to defend the ship from enemy attacks and carry out five vital galactic missions.
This cooperative light strategy game introduces new, never before seen, Panic® game mechanics, including Mission Cards, which feature unique challenges based on the original Star Trek™ series, as well as Character Cards, so players can assume the roles of Star Trek icons like Captain Kirk and Mr. Spock. Star Trek™ Panic® comes complete with a maneuverable U.S.S. Enterprise model ship, Shields, Damage and Destroyed Indicators, Mission Cards, Character Cards, Enterprise Cards, and more.
Star Trek™ Panic® will be available May 2016 at game and toy stores and specialty retailers in the United States and Canada.
Game Info
Based on Castle Panic by Justin De Witt
More Ways to Learn How to Play
Download a copy of the RULES for Star Trek Panic (2.77 Mb PDF)
Insert Unordered list of components. This is the FIRST COLUMN.
QTY Component 1
QTY Component 2
QTY Component 3
QTY Component 4
QTY Component 5
1 Rulebook
1 Gameboard
1 Enterprise Ship
1 Enterprise ship base
6 Shield Pieces
6 Damaged Shield Indicators
6 Damaged Hull Indicators
6 Destroyed Hull Indicators
8 Mission Specific Tokens
6 Mission Indicators
1 Force Field Token
1 No Manuever Token
31 Threat Tokens
1 Draw Bag
7 Character Cards
6 Turn Order Reminder Cards
62 Enterprise Cards
20 Oversized Cards
1 Six-sided die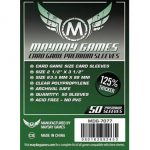 Copyright © 2016 by USAOPOLY, Inc. All Rights Reserved. PANIC and the PANIC logo are registered trademarks of Fireside Games®. © 2016 by Fireside Games. TM & © 2016 CBS Studios Inc. STAR TREK and related marks and logos are trademarks of CBS Studios Inc. All Rights Reserved.