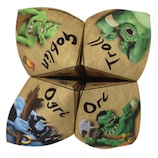 We've been compiling a nice array of downloadable accessories for the Castle Panic fan in your life and now we have finally put them all together in one place!
You can click on the "Download the Pack!" button below to enhance your Castle Panic experience.
But what is included? We're so glad you asked!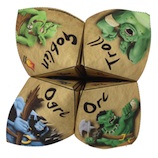 The Oracle – Remember those "cootie catcher thingies" from grade school? We made one that gives you some added player interaction to pull out when playing the game. Print it out, fold it up, and Presto! you have your own Castle Panic Companion Oracle.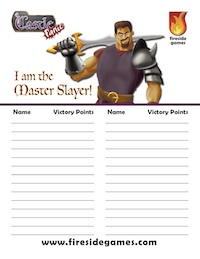 Master Slayer Tracker – We put this together for International TableTop Day, but you can use it all year to keep track of who has been the Master Slayer the most times or with the most points. It's a great way to settle arguments over who won the last time. Provided in color and in black and white.
Monster & Hero Coloring Pages – These will keep the kiddos busy when you need a little quite time before you break out the game for an evening of Monster slaying. It's a great way to include younger players who aren't quite old enough for the game yet.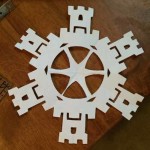 Castle Snowflake Template – Who says gaming can't be festive for the holidays? Use the template to make a few strategic scissor cuts (under supervision for the little ones, of course!) and watch the magic unfold to reveal a snowflake made of towers and walls with a token surprise in the middle!

(2.4MB PDF)
If you have an idea for a printable accessory, let us know! We're always looking for fun ways to add to your gaming experience.
Let Fireside Games help you bring fun ho-ho-home this holiday season!