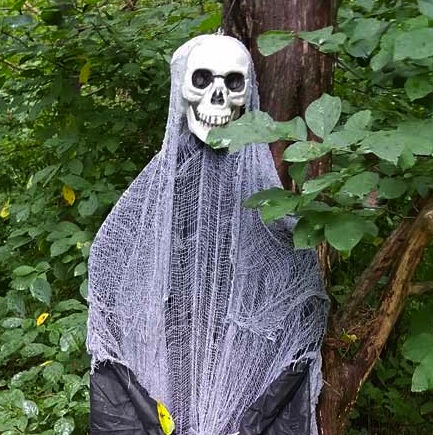 Amidst a whirlwind of store visits our heroes, Anne-Marie & Justin, still managed to keep their eye on the prize and complete a few more Tour Schemes. See how many points they earned with these and learn about some of the spooky things Connecticut and New York have to offer.

1 Point – Creep Yourself Out – (Machimoodus State Park, CT) – COMPLETED
Machimoodus roughly translates to "place of bad noises" and the creepy sounds were believed to be caused by the Native American god Hobomoko and later by Satan in the minds of the Puritans. The spooky cracks and rumblings are now believed to be the result of shallow seismic activity, but they are no less odd and potentially terrifying when you are alone in the woods with them!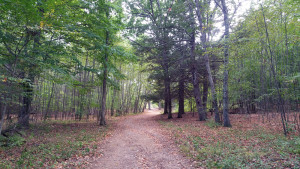 Moodus Forest – Here's a shot of the spooky woods in Machimoodus State Park as we listen for the Moodus Noises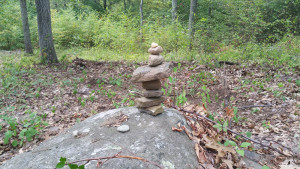 Moodus Rock Pile – There are several of these small rock piles along the trails in Machimoodus State Park. Are they merely examples of the creativity of passing hikers or proof that something supernatural and terrifying roams these woods? (We're going with hikers)
While we didn't get to experience the noises first hand, we did Listen for them and got to enjoy a nice time in a lovely park. On to the next Scheme!
2 Points – Drive Into Terror – (Amityville & Long Island, NY) – COMPLETED
Amityville, NY was made famous by the book and movie based on paranormal events that were reported to have happened in a specific house on several occasions. The actual house of the real-life events is still located in Amityville and is a private residence, so we only drove past and did not bother the current residents. The movie was filmed elsewhere so the house may not be familiar to those of you who have seen the movie.

This area is also know for two of the most haunted roads in New York: Sweet Hollow and Mt. Misery Road. We decided to drive these roads to see what creepy things we might encounter. If you've experienced any of the legendary spooks on these streets, we'd love to hear about it!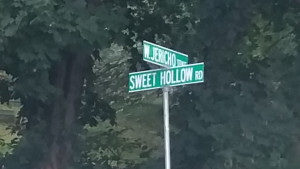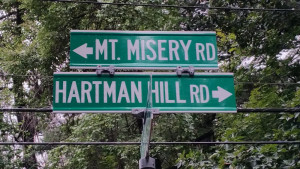 We did see a ghost on Mount Misery Road after all!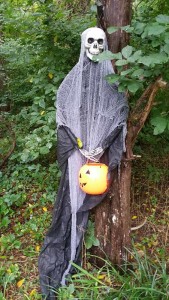 1 Point – Stir the Echoes – (Lake George, NY) – COMPLETED
The Lake George Mystery Spot is located in the heart of a little vacation town and you would totally miss it if you weren't looking for it. It is host to some acoustical aberrations. If you stand in the center of the lake overlook and speak, you get a lot of strange echoes reverberating back at you, but if you stand even a step in any direction you don't hear those echoes. Talk about spooky!

Unfortunately the camera microphone didn't pick up the sound very well, so you'll have to trust us that we did, in fact, Stir the Echoes! (Or you can visit Lake George and try it out for yourself!)
What's the Score?
Adding these 4 points to the previous score of 7 brings our intrepid travelers to 11 points!! Only a few more tour stops left to complete 13 total points… can they do it?