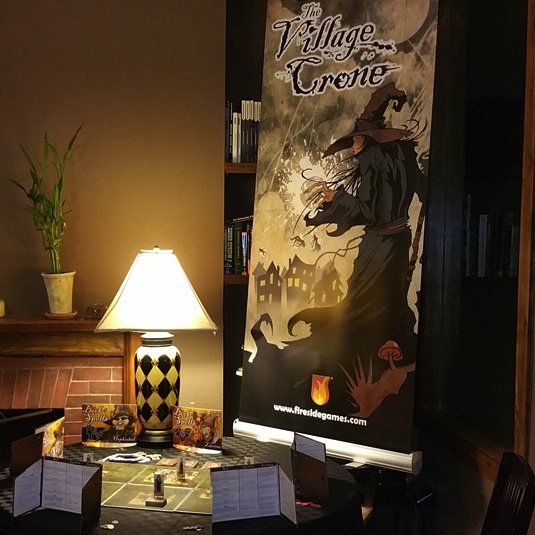 Over the weekend Anne-Marie and Justin made the first two store visits for the Something Wicked Tour.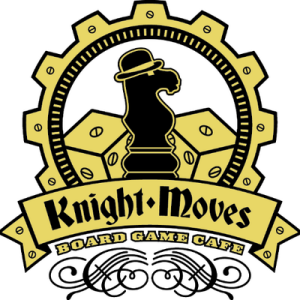 We have started this tour in Boston and the surrounding boroughs and our first stop was at Knight Moves Cafe in Brookline, MA. Knight Moves is a game cafe that focuses on providing a friendly hangout for gamers (both new and veteran) to have a snack, a drink, and a good time playing games together.
We arrived early and the shop was relatively quiet. That would change as the night went on when it was standing room only and we got in several games of The Village Crone and earned some new fans for the game
The owner, Devon, was very helpful and kept directing gamers to our tables as well as serving delicious drinks and snacks all night long.
Their demo library is made of multiple bookcases that are literally overflowing with games. If you want to try out a game in the Brookline area, this is the place to do it!
While they don't sell games at Knight Moves Cafe, they do work with Eureka Puzzles & Games, a game store down the street, to promote gaming in the Brookline area.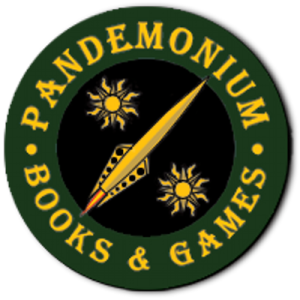 On Sunday evening they ventured to the Harvard University area to visit Pandemonium Books & Games in Cambridge.
We played with all the local board game night attendees, squeezing in 4 games over the night.
The first game of the night had a tremendous finish with one player scoring all three of his Witches Schemes on his last turn in an amazing combination of spellcasting!
Thanks to all who came out!
On Tuesday night we visited the Compleat Strategist in Boston.
Unfortunately we lost the video for this event, so we only have a few photos we grabbed while we were there. Must have been some of those ghosts we met earlier on the Trolley Tour!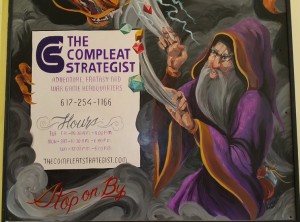 We met some local gamers and showed them what it takes to become The Village Crone. They were pretty good at being witches as it turns out since Justin got trounced soundly!
Up next is our visit to Sarge's Comics in New London, CT on Friday (6–10pm) and then we will be visiting the legendary New York store of the Compleat Strategist this Saturday from 1pm to 5pm!