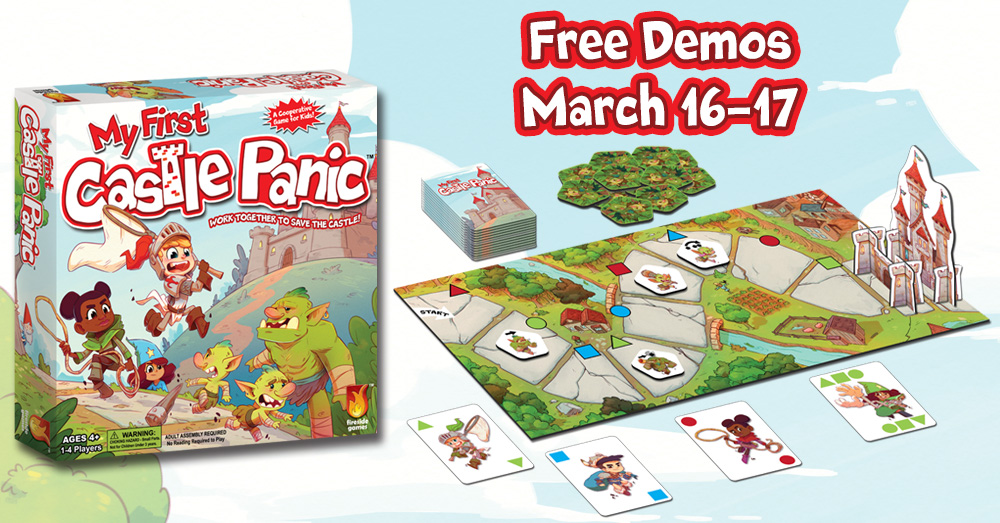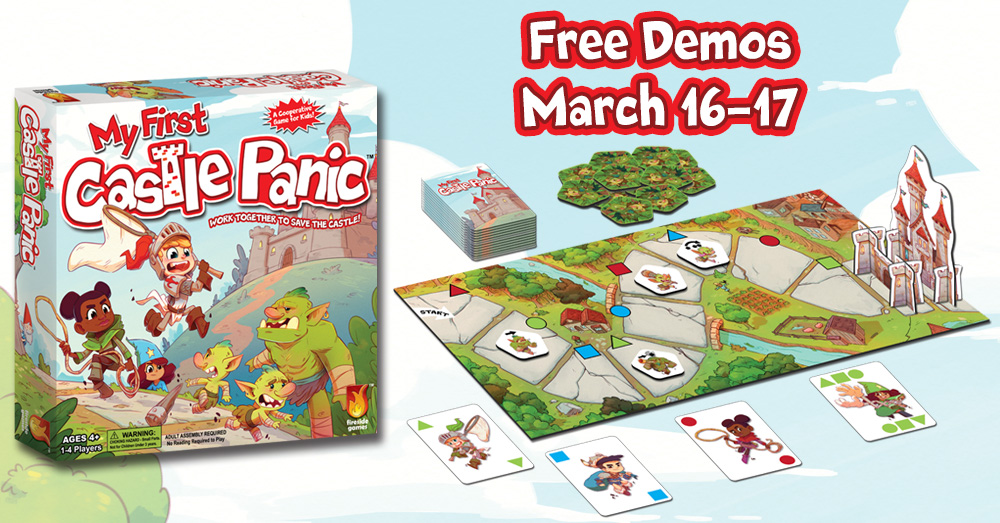 Kids have been playing Castle Panic with parents for 10 years. Now, there's a reading-free version that 4-year-olds can play independently! They can even teach each other to play. Game stores across North America will be hosting free demos of My First Castle Panic March 16–17.
Find a participating store near you from the list below and get your little one in on the fun!
UPDATED: 3/1/2019 More stores added!
Arizona
Game On (Prescott), 928-227-2000
The Hidden Village Games (Yuma), 928-581-2174
Imperial Outpost Games (Glendale), 602-978-0467
Arkansas
Gear Gaming Store (Fayetteville), 479-276-8110
California
Crazy Squirrel Game Store (Fresno), 559-431-0188
Game Empire (San Diego), 858-576-1525
Colorado
Crit Castle Games (Aurora), 303-745-4140
Connecticut
Connecticut Gaming Center (Waterbury), 203-527-3918
The Portal (Manchester), 860-432-0711
Georgia
Tyche's Games (Athens), 706-354-4500
Hawaii
The Armchair Adventurer (Honolulu), 808-843-1250
Idaho
Gaming Adventures (New Plymouth), 208-649-4244
Safari Pearl Comics (Moscow), 208-882-9499
Illinois
AlleyCat Comics (Chicago), 773-907-3404
Indiana
Good Games (Indianapolis), 317-493-1423
Saltire Games (Indianapolis), 317-823-1645
The Game Annex (Fort Wayne), 260-459-4263
Family Time Games (Indianapolis), 317-429-9817
Kansas
Mission: Board Games (Mission), 913-242-7970
TableTop Game & Hobby (Overland Park), 913-962-4263
Michigan
Acropolis Games (Adrian), 517-577-6192
Pandemonium Games and Hobbies (Garden City), 734-427-2451
Nostalgia, Ink (Jackson), 517-784-8955
Minnesota
The Gaming Goat (Saint Paul), 651-690-4628
Missouri
Cards 'n Stripes Games (Republic), 417-647-5151
Fountain City Gaming (Kansas City), 816-214-8093
Mississippi
Panda's Pair O Dice (Gulfport), 228-206-4484
Nebraska
The Game Shoppe (Omaha), 402-991-8699
Sparta Games (Omaha), 402-934-8330
New Mexico
Zia Comics and Games (Las Cruces), 575-405-0461
New York
Alterniverse (Hyde Park), 845-233-4234
Just Games Rochester (Rochester), 585-586-0586
North Carolina
Event Horizon Games (Raleigh), 919-977-4009
Rocket City Games and More (Jacksonville), 910-577-5556
North Dakota
Force of Habit Hobby Shop (Minot), 701-837-0032
Paradox Comics-N-Cards (Fargo), 701-239-9505
Ohio
Barnes & Noble (Pickerington), 614-751-0927
Beyond the Board (Dublin), 614-553-7677
GameScape (Mount Vernon), 740-392-4263
The Guardtower (Columbus), 614-488-4311
Oklahoma
Carolina Comics (Lawton), 580-353-5164
Pennsylvania
The Games Keep (West Chester ), 484-905-5533
South Carolina
Firefly Toys and Games (Columbia), 803-764-0596
Texas
Dragon's Lair (Houston), 832-761-0072
Flash Candy and Toys (Lockhart), 512-668-5075
Half Price Books (Dallas), 214-379-8000
Outlaw Moon (Austin), 512-454-6648
The Gathering Place (Abilene), 325-672-4263
Utah
Game Grid (Lehi), 801-477-7680
Game Haven (St. George), 435-627-0616
Washington D.C.
Labyrinth Game Shop, 202-544-1059
Wisconsin
Gnome Games (Appleton), 920-884-7504
Gnome Games (Green Bay East), 920-965-1380
Gnome Games (Green Bay West), 920-499-4263
I'm Board! Games & Family Fun (Madison), 608-831-6631
Menagerie Games (Pleasant Prairie), 262-361-8238
The GameBoard (Sheboygan), 920-453-4263
West Virginia
Four Horsemen Comics and Gaming (Bridgeport), 304-848-9210
INTERNATIONAL
Canada
GameKnight Games and Cool Stuff (Winnipeg), 204-487-4263
Mexico
Mana Screw (Costa Azul), 52-1-646-176-4406
Read all about the game here.