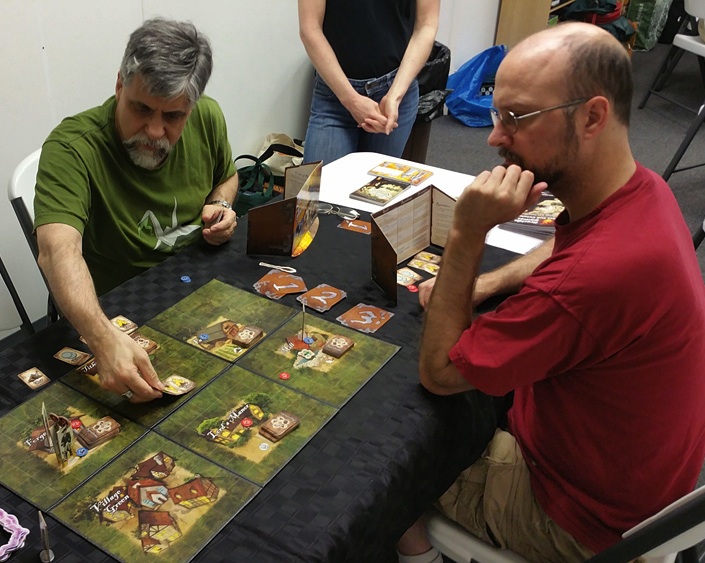 The Something Wicked Tour rolled along over the weekend with three more stores in two states and some crazy traffic!
Our visit to Sarge's Comics and More in New London, CT was short and sweet. While setting up for the event I noticed they had this copy of the old Bermuda Triangle game. I haven't seen that since I was a kid!
We gave overviews of The Village Crone to several customers and made many people happy with a free piece of Silver, which came in handy as an actual coaster as well.
On Saturday we braved Manhattan traffic to visit legendary NYC store of The Compleat Strategist.
For years we have heard about this amazing store deep in the heart of the Big Apple. It's known around the world as "the" place to come see if you are a gamer in New York. It lives up to its reputation.
Not only is the store absolutely packed with games of every type, style and size, the owners Mike and Danny do a great job of matching customers to the perfect game they are looking for.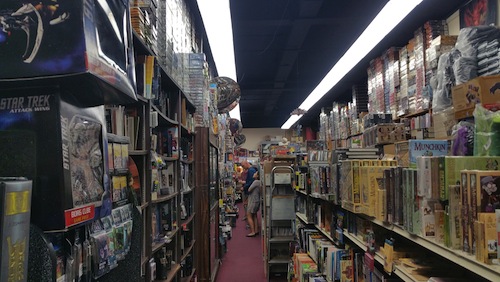 We were warmly welcomed and quickly setup right at the front of the store to show off The Village Crone. Within minutes we had people asking how to turn Villagers into Frogs, or what the binding rings did. In between giving overviews, we talked all kinds of business with Mike and Danny and learned a lot about what it takes to have run a game store since 1975!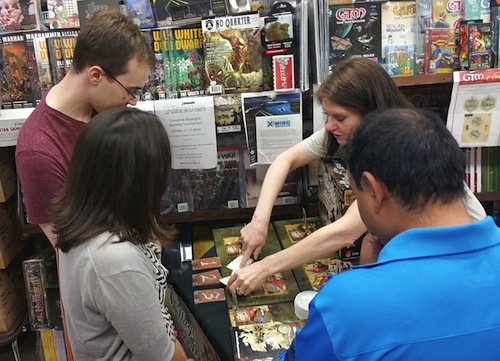 Before we knew it we were signing copies of games and wrapping up the night. It was a great event for us and a very cool opportunity to see one of the most unique game stores in the U.S.
A sunny, fall Sunday in Manchester, Connecticut saw the Fireside Games minivan pull into The Portal's parking lot and unload all our goodies. We made our way inside and grabbed a long table in the board game area to setup The Village Crone.
Sunday's are board game day and before long it was standing room only in there and we had our first game up and running. 5 witches battled it out and we saw one of the best uses of scattering happen, sending almost every Familiar back to the Village Green! In the end it came down to just a few point spread, but we had our winner at 13 points.
In between games we took a few minutes to explore the store. In addition to a great selection of games and a ton of play space, The Portal has a massive demo game library! Hundreds of games stacked into bookcases mean that you can come here and play anything from an old classic to a brand new release. The hardest decision will be picking which game to try!
Our next game started up and was a quick 2-player battle that resulted in one of the most crowded Forges we've seen and to top it off, it gets Bound so no one can leave! The best part was that while 4 Villagers were in the Forge the other 2 had been turned into frogs, so that was all there was!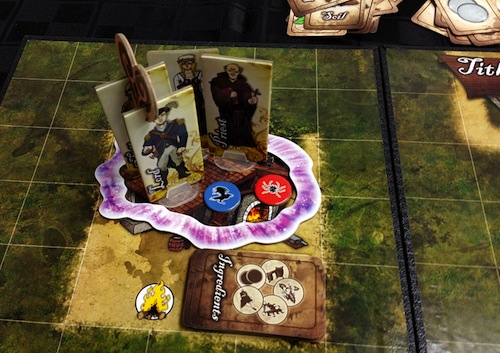 We had a great time and met a lot of great gamers there. If you're anywhere near the Manchester area and are craving a game, The Portal is definitely the place to go!
We're only halfway through the Something Wicked tour, so stayed tuned for many more store visits in another 3 states!