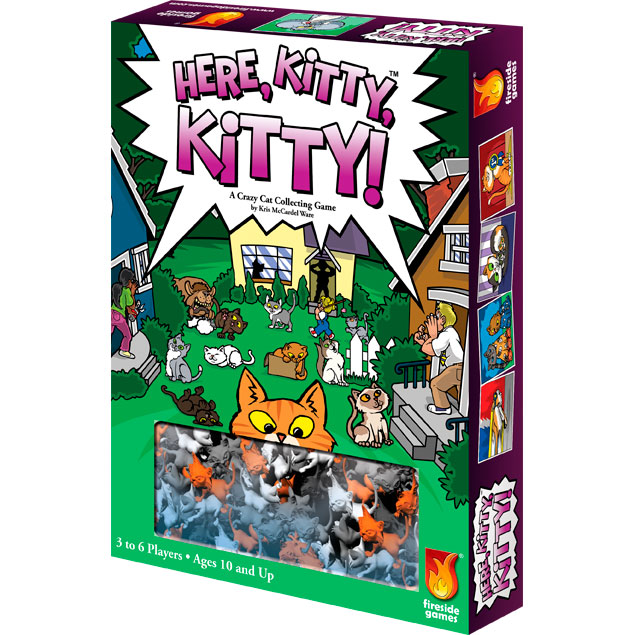 Here, Kitty, Kitty! is coming to a store near you on April 1! No fooling'!
Want to hone your cat-hoarding skills? Check out one of the stores participating in our official launch event with FREE demos on April 2 and 3 from our partners with the Envoy program.
Below is a list of the stores that have signed on to host demos. Please contact the store directly for demo times:
Participating Stores
Dragon's Keep Gaming Room                   Fayetteville, AR
Game Castle                                                  Santa Clara, CA
Crit Castle Games                                        Aurora, CO
Legacy Cards Comics, Games, & More    New London, CT
Emerald City                                                 Clearwater, FL
The Adventure Game Store                        Davie, FL
Tyche's Games                                              Athens, GA
Other Realms Ltd                                         Honolulu, HI
The Armchair Adventurer                          Honolulu, HI
Secret Door Games                                      Elkhart, IN
The Game Annex                                          Fort Wayne, IN
A+ Comics and Games                                Lexington, KY
Modern Myths                                              Northampton, MA
Play More Games                                         Gaithersburg, MD
All About Games                                           Belfast, ME
Acropolis Games                                           Adrian, MI
The Loaded Die                                             Ferndale, MI
Highlander Games                                       Minneapolis, MN
Dark Knight Gaming (Southern Geek Fest)    Long Beach, MS
Red Door Games                                           Richlands, NC
Hobbytown USA                                           Lincoln, NE
Arcana Toys, Games, & Hobbies               Washington, NJ
Elite Battlegrounds                                       Green Brook, NJ
Fallout Shelter                                               Highland Park, NJ
Alterniverse                                                    Hyde Park, NY
Legendary Realms Games                             Plainview, NY
Diversions Gaming & Hobby                      Newbury, OH
Old School Gaming                                       Toledo, OH
Recess                                                              North Olmsted, OH
Game HQ                                                        Oklahoma City, OK
Six Feet Under                                               New Holland, PA
The Temple Games                                       Pawtucket, RI
Blockhouse Games & Comics                     Mansfield, TX
Mage's Sanctum                                            Austin, TX
Roll2Play                                                        Coppell, TX
The Gathering Place                                     San Angelo, TX
The Island Games                                         Centreville, VA
Your favorite local game store not on the list? Ask if they received one of our exclusive Launch Kits for access to the special Milkshake promo card. You can also encourage them to participate in future new release events throughout the year. They can contact our Marketing team to get details.
Here, Kitty, Kitty! has been getting a lot of positive buzz lately, watch our blog for a review round up coming later this week.