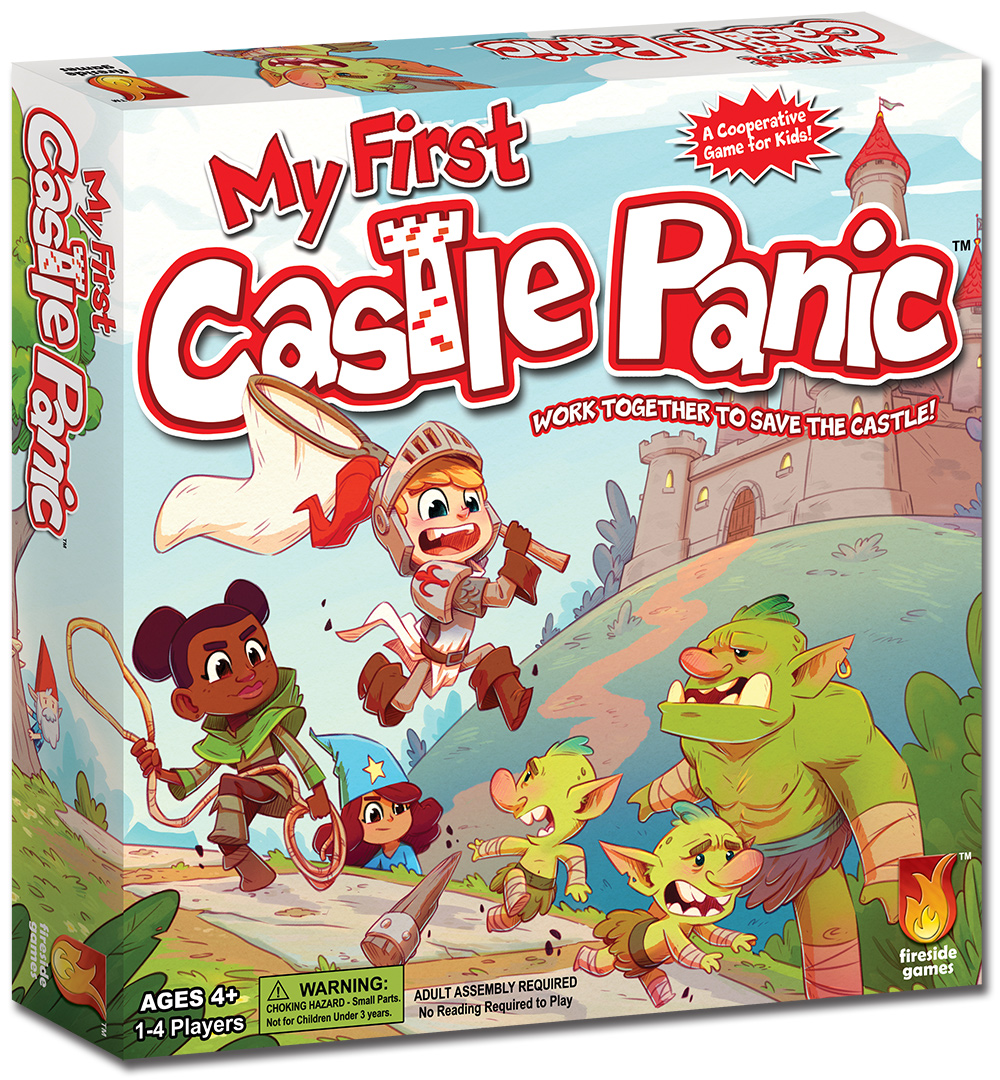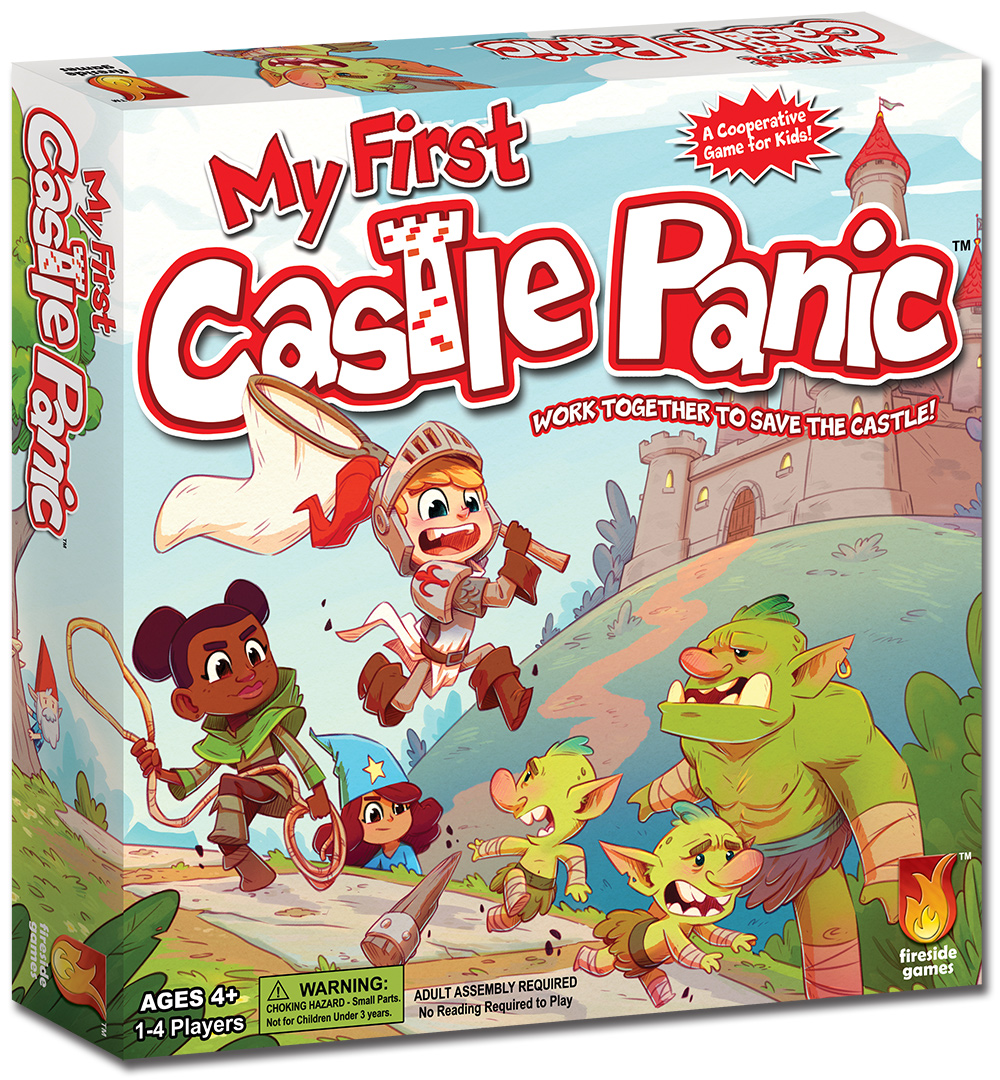 In My First Castle Panic, a group of monsters is racing out of the woods and coming right at your Castle! Players need to catch all the monsters before they smash the Castle flat. Send out your brave defenders to match the color and shape of the space where a monster is to catch it. But watch out! The monsters move closer to the Castle every turn, and more monsters keep coming!
No reading required.
Teaches matching, strategic thinking, taking turns, and more.
Cooperative gameplay means no sore losers.
Preschoolers can play independently.
"Absolutely, a must own recommendation if you have children."
— Bower's Game Corner
"Both my three-year-old and my six-year-old enjoyed the game immensely (and keep asking to play again and again, which is always a great sign)."

— GeekDad.com
"Excellent job. Absolute keeper."
— Purge Reviews
"It has turned out to be a perfect family board game for us. Having a 3-year-old and a 3 year age gap between our kids always makes it a truly remarkable experience when we find a game that legitimately works for all of us."
— DadSuggests.com
"I would buy this for my kids in a heartbeat."
— Morgan C.
"Amazing! Love it! Like it times 100!"

— McGrady Family
"It's easy to see why kids find this remarkably well-crafted cooperative board game to be hugely enjoyable."
— Tillywig Awards
"I urge you to get this game for your children, nieces, nephews, grandchildren, or any child that you spend time with. You will not regret it."
— Adam Collins, Everything Board Games
"This is an easy concept for preschoolers to grasp and encourages helping one another."
—Hot Diggity Awards
Designed by Justin De Witt


Game Includes
• 1 Game Board
• 1 Castle Piece
• 1 Wall Piece
• 26 Castle Cards
• 16 Monster Tokens
• 4 How-to-Play Cards
• 1 Rulesheet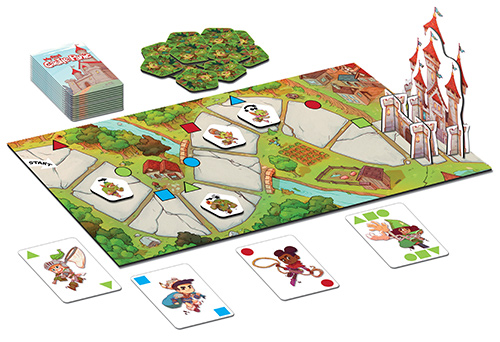 Overview
Based on the best-selling cooperative hit Castle Panic, My First Castle Panic now brings the same exciting, edge-of-your-seat, team-based experience to even younger players. Streamlined gameplay teaches strategic thinking, as players work to match colors and shapes, all while planning ahead, taking turns, and cooperating.
Each player's turn consists of these 4 steps in this order:
1. Draw 1 card
2. Play 1 card from your hand
OR
Ask for help from 1 other player
3. Move the monsters
4. Draw 1 monster token

The players win if they catch all the monsters and the castle is still standing. If the castle gets knocked flat, the players lose.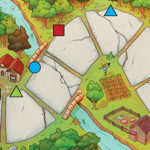 The board features a winding path with the monsters starting on the left side and spaces for the wall and castle on the right. Spaces along the path feature a unique color and shape that the players must match to catch the advancing monsters.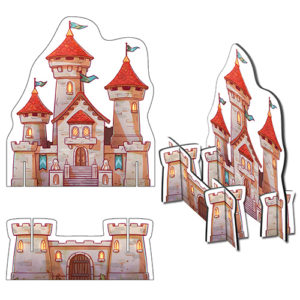 The castle and walls are easy to assemble and look great when towering over the board.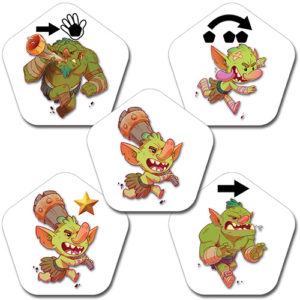 Most of the monsters are goblins, but there are 3 special monsters with unique powers that will keep the players on their toes.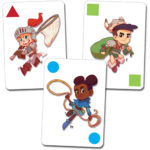 Catching monsters means playing a card that matches the color (red, green, or blue) and the shape (circle, square, or triangle) of the space the monster is in.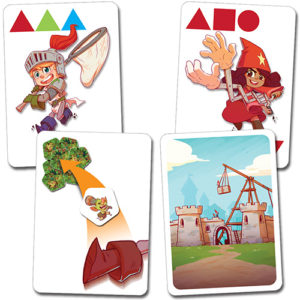 Special cards allow players to catch monsters in a space of any color or any shape, to return a monster to the draw pile, or to rebuild the wall.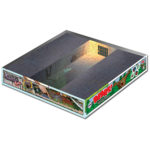 The bottom of the box features a Dungeon, where captured monsters are kept.